Numismatic Catalog of Venezuela
Page Reference
For reference, the URL address of this page is:
http://www.numismatica.info.ve/en/banknotes/bbnv20p-aa.htm

You can also access this page directly by using the code: bbnv20p-aa
Obverse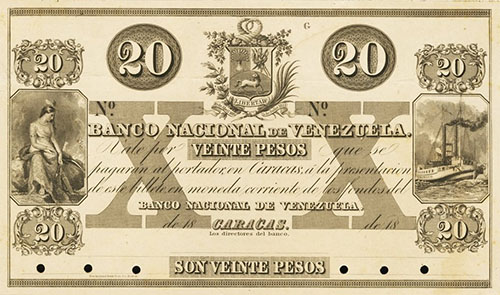 Reverse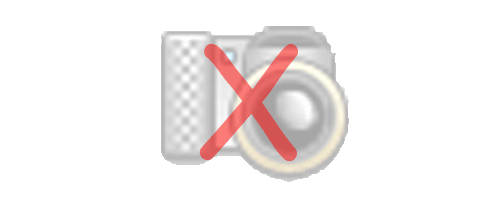 Characteristics
Identification Code: bbnv20p-aa
Size: 190 x 150 mm (7.48 x 5.91 in.)
Obverse: In the center, the issuer name "BANCO NACIONAL de VENEZUELA" and the payment clause "Vale por VEINTE PESOS que se pagaran al portador en Caracas á la presentacion de este billete en moneda corriente de los fondos del BANCO NACIONAL DE VENEZUELA". Above, Coat of Arms with the denomination value "20" on each side. Below, the date filling space. On the bottom, the denomination in words "SON VEINTE PESOS". On the left, allegorical of a seated woman. On the right, allegorical of a sailing ship. In each corner the denomination value "20". In the center, as background the denomination value in roman "XX" (20)
Reverse: No design.
Other pieces (1)
SCWPM
Piece Code
Date
Serie
Amount
Note
N/L
bbnv20p-aap
No date

-

-

Obverse only print proof
Legend
Piece information
No change
Unconfirmed (C)
Added recently (N)
Deprecated (E)
Updated (A)
Unverified (V)
In revision (R)

Entry without photo

Entry with photo

Entry with updated photo

Entry with incomplete photo
N/L
Not Listed in Standard Catalog of World Paper Money (SCWPM)
XX.XXX.XXX ?
Estimated amount, not confirmed
NOTE: The piece identification from the Standard Catalog of World Paper Money (SCWPM) used in this website is updated to: Specialized issues (7th edition - 1995), General issues 1368-1960 (14th edition - 2012) and Modern issues 1961-2019 (25th edition - 2019)