Numismatic Catalog of Venezuela
Page Reference
For reference, the URL address of this page is:
https://www.numismatica.info.ve/en/banknotes/beuv1p-aa.htm

You can also access this page directly by using the code: beuv1p-aa
Obverse
Photo from piece
beuv1p-aa01-6
: Banknote from Estados Unidos de Venezuela. 1 Peso Fuerte. Design A, Type A. Date Agosto 27 1811. Serie 0 digits
Photograph credits:
Subastas Globus
Reverse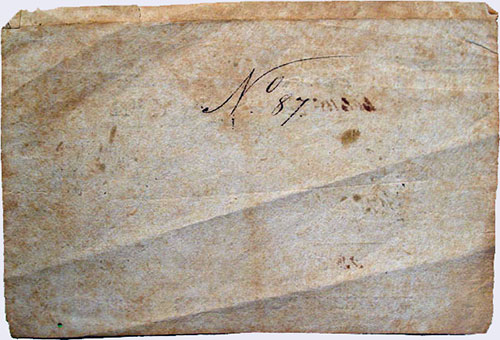 Photo from piece
beuv1p-aa01-6
: Banknote from Estados Unidos de Venezuela. 1 Peso Fuerte. Design A, Type A. Date Agosto 27 1811. Serie 0 digits
Photograph credits:
Subastas Globus
Characteristics
Identification Code: beuv1p-aa
General: Size 113 x 81 mm
Obverse: In the center, circular seal with a sun in the top with the number 19 inside, with a ray covering a scenery of a seaport with two sail, a palm, anchor, barrel and two trunks. In the circumference, the legend "PENA DE MUERTE AL FALSIFICADOR" «DEATH PENALTY TO THE COUNTERFEITER». In the top "ESTADOS UNIDOS DE VENEZUELA" «United States of Venezuela», below the number of coupon and folio. On the left in vertical style, "Hipotecado sobre Las Rentas Nacionales de la Confederación" «Mortgaged on the National Income of the Confederation». On the right in the same style, "Ley del 27 de Agosto de 1811. Año I de la independencia". Below the seal, "UN PESO", the serial number and the signs.In the bottom-left, a letter that indicates the position inside of the original sheet.
Reverse: A serial number of delivery.
Signatures: 1st Signer, 2nd Signer and 3rd Signer
Legend
Piece information
No change
Unconfirmed (C)
Added recently (N)
Deprecated (E)
Updated (A)
Unverified (V)
In revision (R)

Entry without photo

Entry with photo

Entry with updated photo

Entry with incomplete photo
N/L
Not Listed in Standard Catalog of World Paper Money (SCWPM)
XX.XXX.XXX ?
Estimated amount, not confirmed
NOTE: The piece identification from the Standard Catalog of World Paper Money (SCWPM) used in this website is updated to: Specialized issues (7th edition - 1995), General issues 1368-1960 (14th edition - 2012) and Modern issues 1961-2019 (25th edition - 2019)