Numismatic Catalog of Venezuela
Type A
Page Reference
For reference, the URL address of this page is:
https://www.numismatica.info.ve/en/coins/ml5bs-ca.htm

You can also access this page directly by using the code: ml5bs-ca
Obverse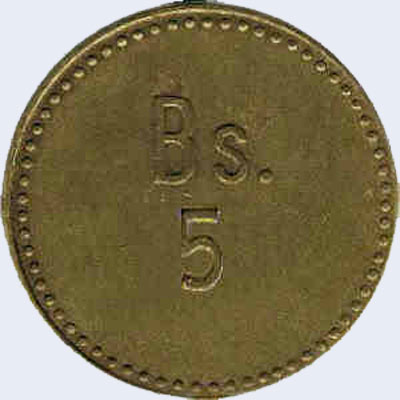 Reverse
Characteristics
Identification Code: ml5bs-ca
General: Circular shape.
Obverse: Circular rim with dot beading.In the center "Bs. 5".
Reverse: Circular rim with dot beading.In the center, the legend "Isla de Providencia" together with the year, on the top the legend "LEPROSERIAS NACIONALES".
Composition: Brass
Module: 29 mm
Improve the catalog
| | |
| --- | --- |
| | If you have an unlisted piece, you can send a comment along with a photograph following the instructions in the Contact section for verificaton and cataloging. Your contribution will be appreciated and will help to improve the quality of this website. |
Legend
Piece information
No change
Unconfirmed (C)
Added recently (N)
Deprecated (E)
Updated (A)
Unverified (V)
In revision (R)
Unconfirmed: Referenced piece that it's not confirmed the existence.
Added recently: Piece added since 2 August, 2023
Deprecated: Piece deleted and no longer valid.
Updated: Piece updated since 2 August, 2023
Unverified: Piece that should exists but no verified piece is known.
In revision: Catalogued piece that is under revision.

Entry without photo

Entry with photo

Entry with updated photo

Entry with incomplete photo
N/L
Not Listed in Standard Catalog of World Coin (SCWC)
XX.XXX.XXX ?
Estimated amount, not confirmed
NOTE: The piece identification from the Standard Catalog of World Coin (SCWC) used in this website is updated to: 1801-1900 (7th edition - 2013), 1901-2000 (40th edition - 2013) and 2001-2019 (13th edition - 2019)