Numismatic Catalog of Venezuela
1813
Page Reference
For reference, the URL address of this page is:
https://www.numismatica.info.ve/en/coins/
[email protected]
You can also access this page directly by using the code:
[email protected]
Obverse
Reverse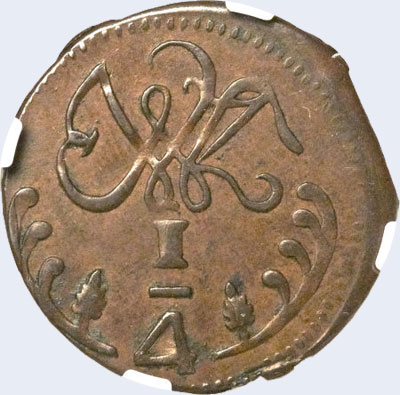 Characteristics
Date: 1813
General: Circular shape with plain edge.
Obverse: Dentacles beading with no rim. In the center, inside a laurel wreath, a lion holding a dotted or solid oval, with a cross within, which represents the Caracas Arms. In the top, a five points Royal Crowns. Around the perimeter, the legends "CARACAS", "AÑO DE" and the year in the bottom.
Reverse: Dentacles beading with no rim. In the top, interlaced trigram with the letters "VNZ" which represents Venezuela. On the top, the ammount "1/4" with each side a laurel wreath ended in the middle of the field.
Circulation: This was a royalist coinage.
Note: Due to the poor quality of coin minting for that time, the coins classified here contains design variations but mantain the same elements.